I'm surprisingly excited for this movie. The hero of this was the hero in Mujhse Fraaandship Karoge (a very under-appreciated movie, in my opinion), so he's one reason. The second reason is Ram Kapoor. After listening to the music, I've found my third reason to watch this movie.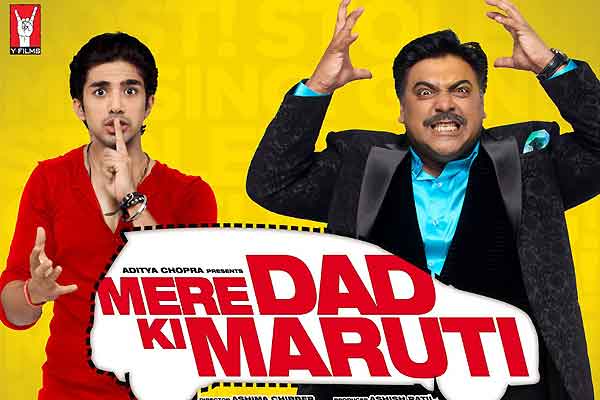 Punjabiyaan Di Battery
: This is a Punjabi track picturized on Ram Kapoor and Saqib Saleem (father and son in the film). I really like Yo Yo Honey Singh's part as well as the first few lines of the song. After that the song isn't as exciting, but it's still good overall.
Main Senti Hoon
: I love this song. I know a lot of people are like "what the hell is this song?" but I think it's super catchy, and the promo (the first half anyways) is awesome. Ever since I heard this song last weekend, I've been going around singing "only for you...cuz you so hot!" Even my non-desi friends have caught on to this song now. Plus, it's common knowledge now that Punjabis are the senti type, so it fits well.
Haaay
: This song took a while to grow on me, but it's finally done it. It doesn't have the super fast feel, but it's still catchy.
Hip Hip Hurrah
: I don't really like this song. The beginning is fine, but the chorus became a bit annoying.
Mere Dad Ki Maruti
: This song is fun for the first minute or so, but gets really repetitive after that.
Mere Dad Ka Mash Up
: Ever since Zero Hour Mashup, Bollywood has gotten into mashups. Jannat 2, Race, Student of the Year, and other movie soundtracks came with mashups. To be quite honest, I didn't pay a ton of attention to the mashup, but what I did hear was decent. Most songs in the album are fast Punjabi numbers, so even the mashup sounded like a regular song because of all the smooth transitions.
Overall, I really like this album. If you don't like Punjabi numbers, stay away from this. Otherwise, definitely check it out. Pretty much every song is catchy and makes you want to dance!