I saw the trailer for Himmatwala this past weekend, and got really excited when I heard Naino Mein Sapna. I'm an Ajay Devgan fan, so I'll be watching the movie for sure. For now though, here's my music review!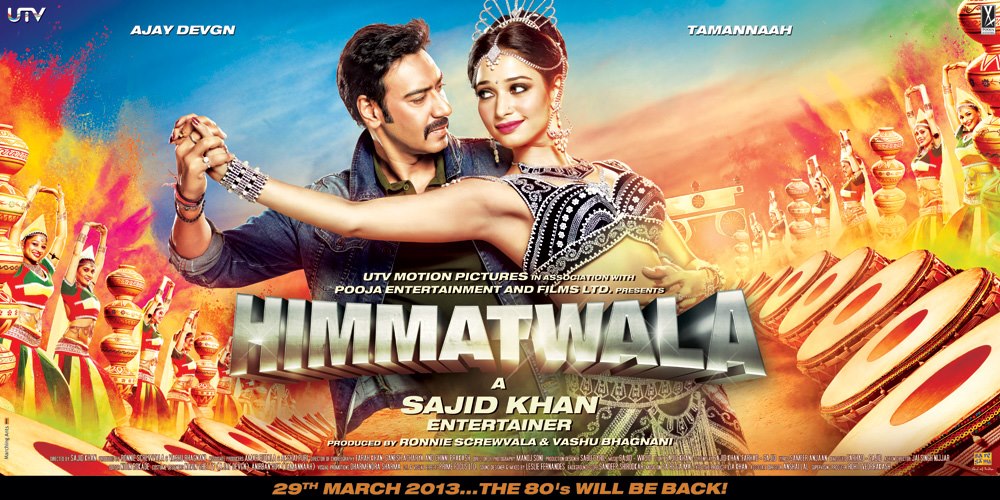 Naino Mein Sapna
: This is a remake of the original song from Himmatwala. I think it's a fairly normal remake and doesn't really add anything.
Taki Taki
: This is also apparently a remake of the original song. I can't compare the two though since I actually haven't heard the original.
Dhoka Dhoka
: An okay song. This is the first original song we hear in the album, and it doesn't impress me at all.
Bum Pe Laat
: The song opens with the chicken dance, and that sets the tone for the song. It's a silly song, probably meant for kids. Lyrics rhyme "tit for tat" with "bum pe laat." I'm not really a fan at all.
Thank God It's Friday
: This is supposed to be a disco song, and apparently (according to Wikipedia), Sonakshi Sinha is supposed to have a cameo in it. The song itself is not as exciting as, say, The Disco Song from Student of the Year, although the chorus has some energy. Despite the not-so-exciting song though, I can completely see Sonakshi adding liveliness, expressions, and an attitude to the song to make it come alive and look amazing.
Overall, the soundtrack isn't that great. You can check out the remixes if you like, but it's like Chaar Din Ki Chandni where the remixes don't really sound much different than the original, so I'm not particularly fond of them. The original songs are eh.
Thank God It's Friday
is probably the best of the lot. I'm hoping the picturizations of these songs save the soundtrack.