Hi everyone! I just started this blog so I have a place to write my thoughts about music, movies, and pretty much everything Bollywood. I'm a huge movie buff, and I pride myself in my knowledge of Bollywood.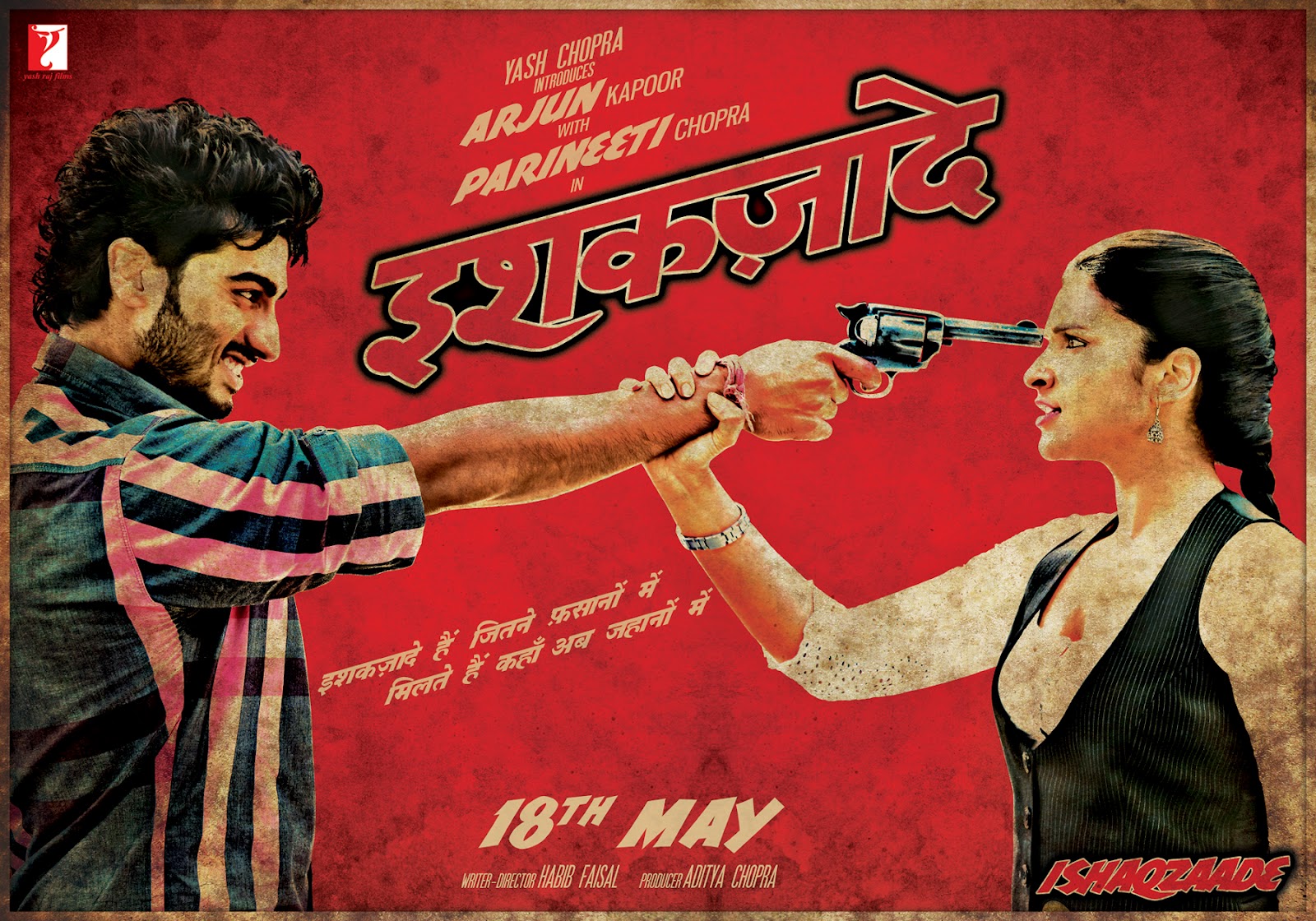 There are so many things I could talk about right now, such as Jannat 2 and Vicky Donor, both of which are movies that came out recently and that I've seen, Mujhse Fraaandship Karoge, which I finally saw, Teri Meri Kahaani, music previews for which recently came out, etc. I'm going to try to control my emotions a bit though and focus on the movie I most recently saw, which is Ishaqzaade.
I had been excited about Ishaqzaade ever since I Wikipedia-stalked Parineeti Chopra (I pyaar se call her Pari) after seeing Ladies vs. Ricky Bahl. I loved her in LVRB and instantly became a fan. Thanks to her, saying lol in an Indian accent has become common among my friends (not just the Indian ones...others too!). She completely rocked that role and showed in a very short amount of time that she has an immense amount of talent. I am definitely not a fan of Priyanka (except in Fashion and Dostana), so as far as I'm concerned, Pari is definitely the better of the Chopra sisters. Anyways, back to Ishaqzaade. My best friend and I stayed up until 6 am last week (during finals) to watch the live Ishaqzaade interview and asking as many questions as we could think of hoping to get a shoutout. We both ended up getting shoutouts, and mine's posted below.
I would have seen the movie earlier, but I had some other things to take care of. I finally saw it a couple hours ago, and really liked it. Parineeti Chopra did an amazing job, as expected. She has an extremely expressive face, and emotions seem completely natural and real. Her character in this movie was much more mature than her character in LVRB, and she did a wonderful job.
Arjun Kapoor did a decent job as well. He could have been more expressive in some scenes, but he wasn't bad. The role he had was pretty difficult though, so I'd like to see how he handles different roles as well before I decide if I like him or not. He has potential, but he needs to work on his expressions a bit before he can get really good. Both Pari and Arjun are good dancers. I already knew Pari was, and I have LVRB songs to look at to see her dancing since she didn't dance in this movie except for maybe a minute in Jhalla Wallah. Speaking of, it was nice to see Gauhar Khan as well. I really liked her dancing in Jhalak Dikhla Ja, and then saw a glimpse of her in the bit I saw of Rocket Singh. She came again in Parda Parda (Once Upon a Time in Mumbaai), and once again here. I would definitely like to see her as an actor rather than just as an item girl.
Okay enough about the actors, and now for the story. The trailer doesn't really give much insight into the story, and personally I just got more confused and even more curious.
Going in, I knew the general premise and the songs, but nothing about the actual plot of the movie. It was a pretty basic Romeo-Juliet story. It's super cliche at this point and we've seen Bobby, Saagar, Qayamat Se Qayamat Tak; the list goes on and on. I personally still like the story, so I didn't mind too much. There is an interesting twist in the middle. I was definitely expecting something to happen since the love story progressed so quickly (in one song actually) and something had to happen to progress the movie. What I didn't expect was what actually happened.
I'm trying to avoid spoilers here since the movie came out less than a week ago and many people haven't seen it, but I was definitely surprised at the twist. I'll leave it at that. What I found odd about this movie was that everyone had a gun, and it wasn't out of the ordinary at all. Granted it's easy for politicians to have guns, but this seemed kind of over the top. That's not a big deal though. The one single thing that I didn't like at all was the ending. Even if I accept what actually happened, the execution of the scene was poor and nowhere near as impactful as it could have been. The side actors didn't do a good job, the background score didn't fit, and the dialogues were weak. That sounds harsh, but I just hated the ending. The rest of the movie was entertaining and I did enjoy it.
Songs were good too. My favorite song was Pareshaan, but I think I actually like every song in the movie. Every song was also picturized very well. I really want to see Pari sing soon. She is a trained singer, just like Priyanka, and I'd like to see her professionally showcase that talent alongside her acting talent.
This review ended up being much longer than expected. Overall, I liked Ishaqzaade, and I'd recommend watching it. It is not flawless at all though. I was watching B4U Music earlier, and VJ Salil was talking about how it may not be a blockbuster, but it would be a successful smaller film. I think I agree with that. It's not super commercial and the story isn't extraordinary from any angle, but it's definitely entertaining, and Pari did an amazing job.